OmniFocus 2 for iPad and iOS devices is a tool for capturing and organizing tasks. The fact that this is an iOS app is great because you can capture ideas anytime and anywhere. According to the developer, if you've been using OmniFocus 2 for iPhone, you can use Complete My Bundle with the OmniFocus Legacy Support Bundle to get access on your iPad and Apple Watch and get full credit for your investment.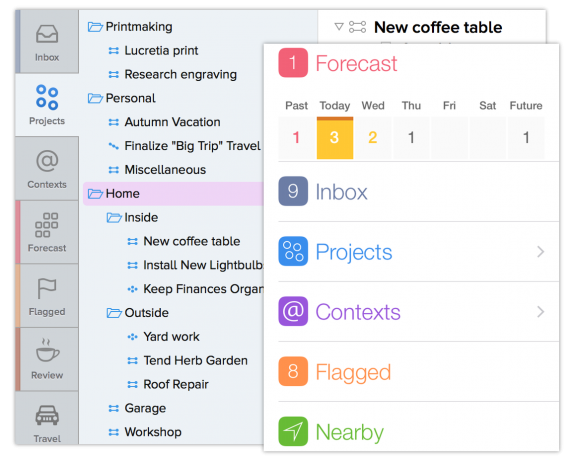 The app was recently updated with the following new features and fixes:
This release adds Peek and Pop actions to rows. If you don't have a 3D-touch-capable device, you can swipe and use the "More" button.
• Peek and Pop — You can now Peek a row to see a preview card and get quick actions. Press harder to Pop to the item editor.
• Swipe Rows — Don't have 3D Touch? Now, there is a More button that allows access to the same actions available via Peek.
• Apple Watch — Completing an action via notification on Apple Watch now triggers a sync.
• Pasting — Pasting into a collapsed group on iPad now expands that group. Fixed regressions pasting into a list with hierarchy, including a crash.
• Apple Watch Complication — support time travel in the Complication when using a custom Perspective.
• New Inbox Item — Adjusted the tap target for the New Inbox Item button to make accidental action completion less likely on iPhone.
• Due Times — preserve time components from pre-existing defer/due dates when assigning a new date via paste or the "Later" dice.
• Photos — Fixed a bug that caused an unresponsive state when returning from the Photos picker.
• Rotation — Fixed a bug where the Save button was disabled after creating a task in portrait and then rotating to landscape on iPhone 6 Plus and 6S Plus.
• First Launch — Fixed a problem with first launch in landscape orientation.
• Apple Watch — Fixed a bug that may have caused an unresponsive Apple Watch app.
• App Icon — Added an app icon sized for iPad Pro.
• Crashes — Fixed a number of frequent crashing bugs.
To see some of the newer features in use on an iPhone with 3D touch, Watch the video on the OmniGroup site.
The OmniGroup has put together an iBook manual to explain the program. There are a bunch of videos that help explain and show the app in use here as well.